EASIER, FASTER, HEALTHIER FOOD
The story of Basquettes' Mother-Daughter Team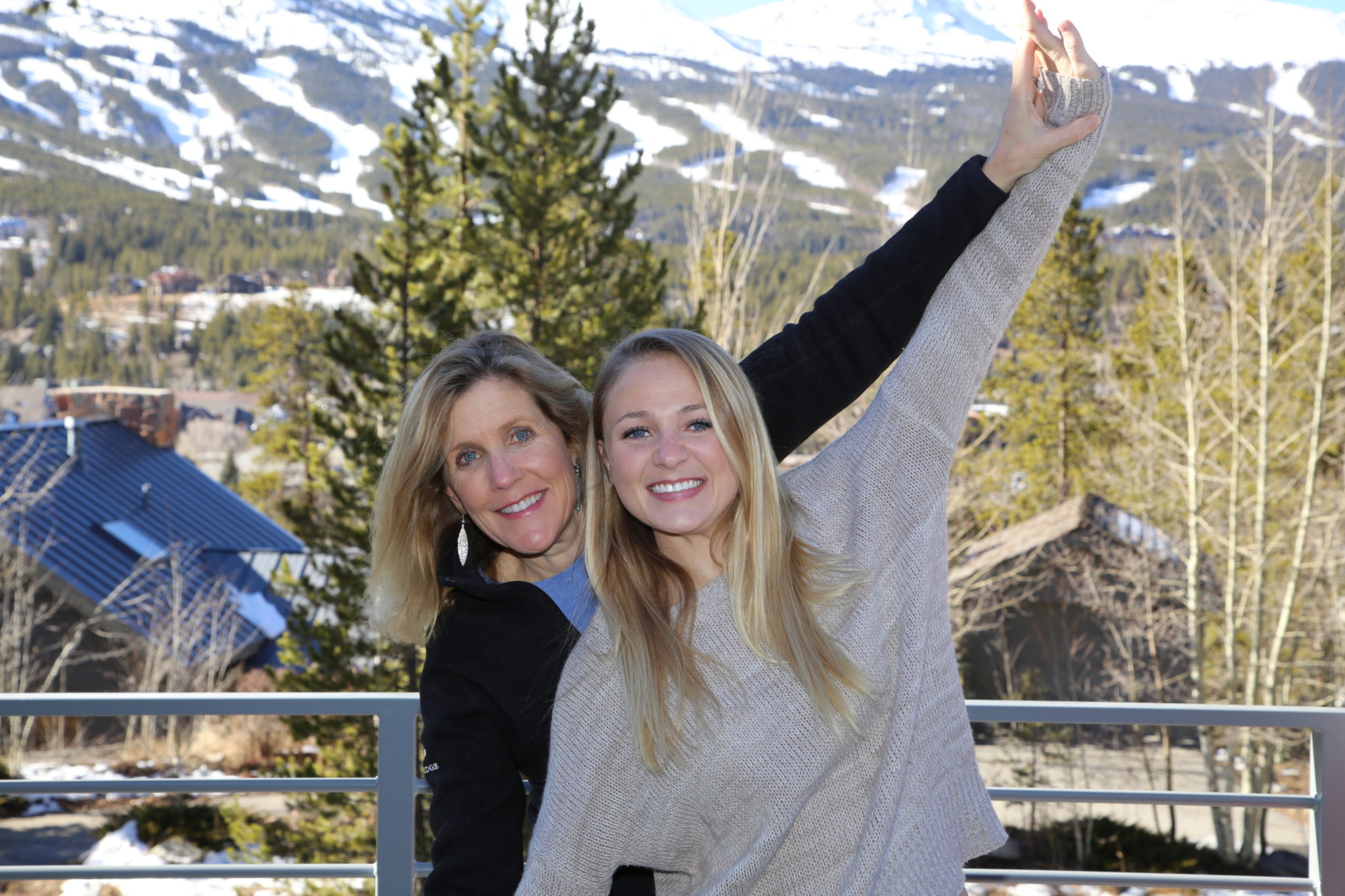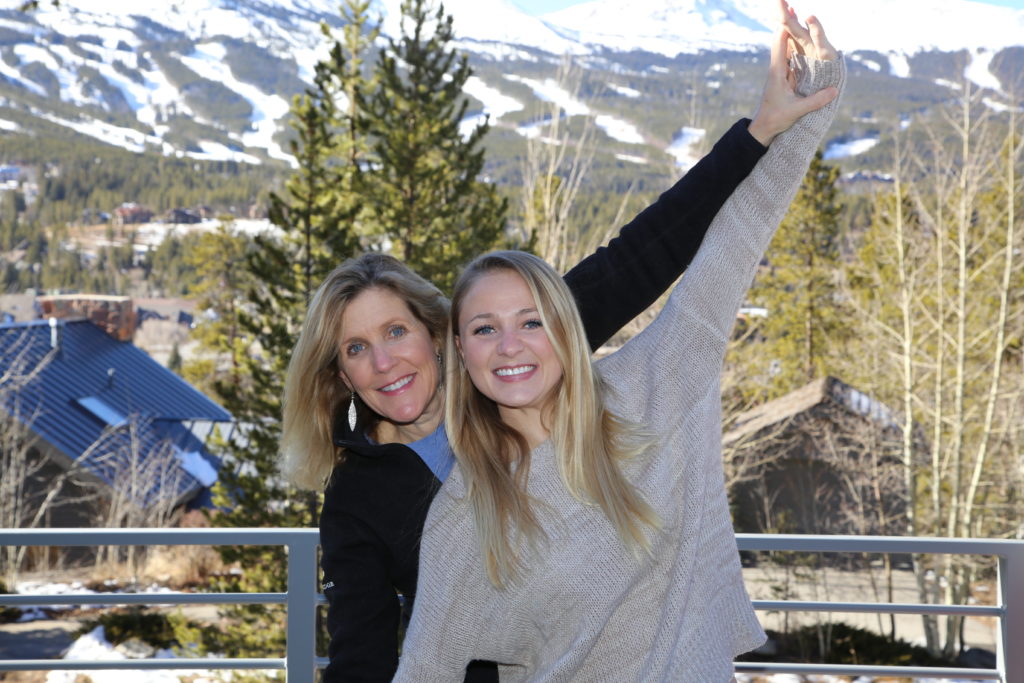 This isn't our first rodeo together
The mother-daughter team of Elizabeth and Lauren has been working together for years.  When Lauren was 11, she started helping out at Elizabeth's recycling company and continued helping summers and weekends for 10 years until that business was sold.  At 24, Lauren had an idea for an office and kids' product.  She sweet-talked her Mom (aka Mooshkers) out of retirement to help her start and run MoodClue, which is now a successful Amazon-based business.  The entrepreneurial streak continues with Basquettes.
Basquettes by Elizabeth and Lauren, a mother-daughter team
When we first saw a bulky air-fryer with a tiny cooking basket we thought, "We can design something better than that."  We knew we could make a heat-efficient, heat-conducting basket that would work in a conventional or convection oven, so you wouldn't need a huge air-fryer taking up precious counter and cupboard space.  Cooking together, working together, and playing together have always been our favorite things so this seemed like a fun idea for us to explore.
We showed our first prototype to a friend who said, "I love it, but make it a set of 2 so I can stack them in my oven and cook multiple levels of different foods."   So, we redesigned it, expanded its capabilities and showed it to more people.  The next person said, "Make it so I can use it on the grill."  Our friends had a lot of different ideas on how the baskets could be used, the type of foods that could be cooked and the manner of cooking for delicious results.
We embraced every suggestion and redesigned over and over.  We built multiple prototypes, testing and revising each time.  Manufacturers told us that it couldn't be done and that our design ideas wouldn't work.  Yet, we persisted…
Thank you to the amazing vendors who have helped us achieve our goals.  Most importantly love and thanks to Margie & Jim, Jeanne & Terry, Laurie & Leo.  We appreciate your time and honesty (telling us what you hated about the latest prototype!).  And to Peter & Jim, we are so blessed to have you cheering us on and believing in us especially during the times we were frustrated and filled with doubt.  We love you.
Basquettes are also available for purchase on Amazon Prime and Etsy! See recipe ideas on YouTube and Pinterest.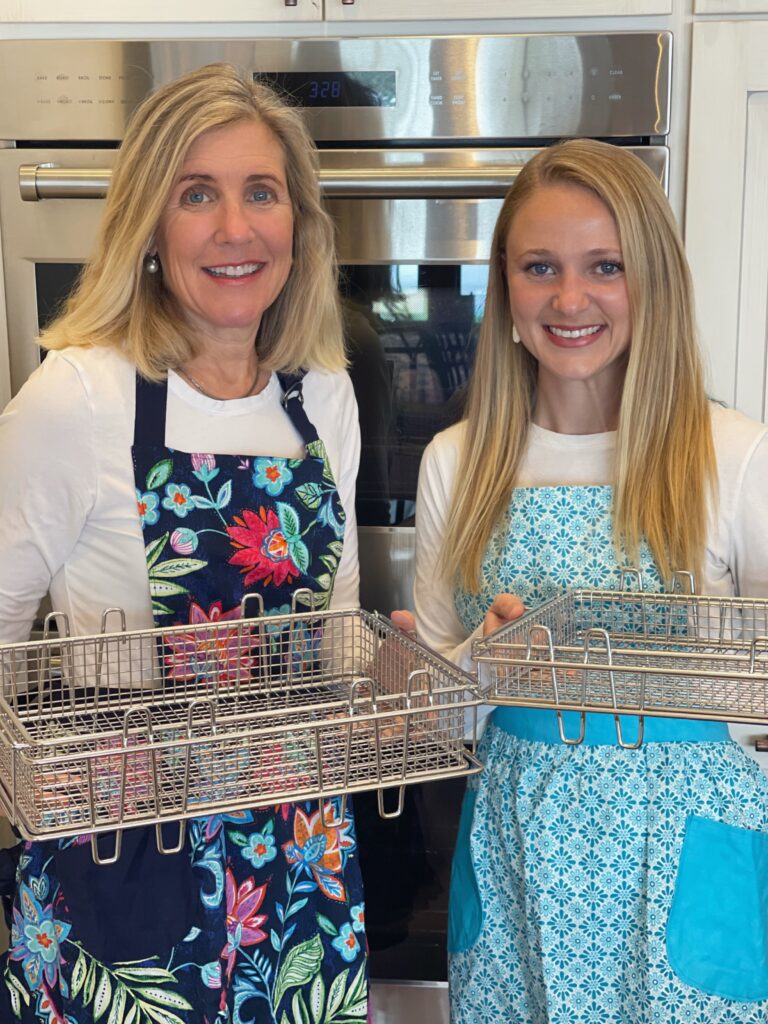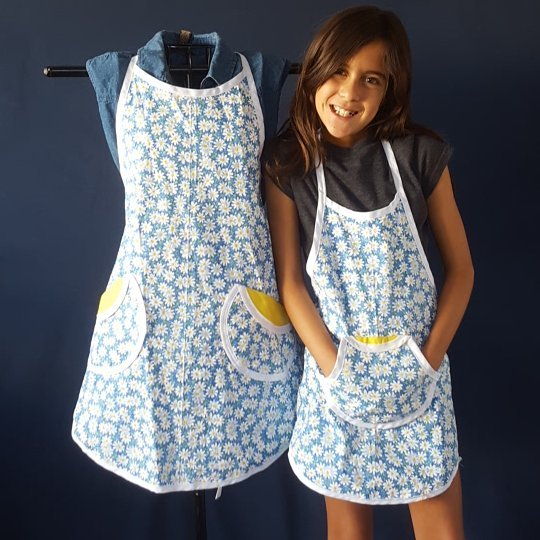 Our favorite "fem-preneurs"
As female founders and entrepreneurs, we strongly believe in supporting other women entrepreneurs.  So on this site, we will feature links and information about some of our favorite "fem-preneurs" in the cooking space.
We love bringing color into our kitchens with these aprons made by the Lizzie And Grandma Etsy Shop – Debbie (also known as "Grandma") says, "I remember my great-grandmother wearing an apron she made.  This inspired me to teach my granddaughter to sew.  Making aprons seemed a natural choice for us.  As a grandparent I feel that what I can teach and the stories I can tell, will create memories my grandchildren can share with others.  We are very fortunate that people have supported our Etsy shop allowing us to continue with our hobby."
Elizabeth:  "I was a single mom for a long time when Lauren was little.  We didn't have a lot of money but we had each other and lots of imagination.  I read to her every night.  She loved words and rhymes.  I was always making up silly nicknames for her that rhymed like Agnes Bagnes.  She liked thinking of what her name would be if she married Ralph Lauren's grandson – Lauren Lauren! 
The year before her 18th birthday, as her excitement about going to college grew and my dread of having her leave grew, I teased her that I could still legally change her name so I sentimentally dredged up all those silly nicknames.  Agnes Bagnes continued to strike us as the most outrageous and funny nickname so it just stuck – even to this day. 
When we were thinking of names for our company, Bagnes Cooking seemed like the perfect name.  Don't be surprised if you call us and Lauren says, 'Agnes Bagnes from Bagnes Cooking, how can I help you?'"