EASIER, FASTER, HEALTHIER FOOD
Air-Fry, Crisp, Roast, Rotisserie, Dehydrate, Grill & Smoke
Use Basquettes as an air fryer basket in your regular or convection oven. Basquettes has 8x the capacity of an electric air fryer!  Some people call it an air fryer rack; some call it an air fry tray; and some call it an air fry pan – no matter what you call it – it turns your oven into a high-capacity air fryer! Great as a crisper tray or oven roaster too! Can also rotisserie and dehydrate!  Basquettes takes the place of 8 single-use, space hogging gadgets.  Get yours today and start enjoying cooking again.
Pro-Tip: When converting an air-fry recipe to the oven, set the oven temperature 25° to 50° higher than the recipe says. We also recommend adding 10 minutes to the cooking time to adjust for the relative size of an oven compared to the small size of an air-fryer.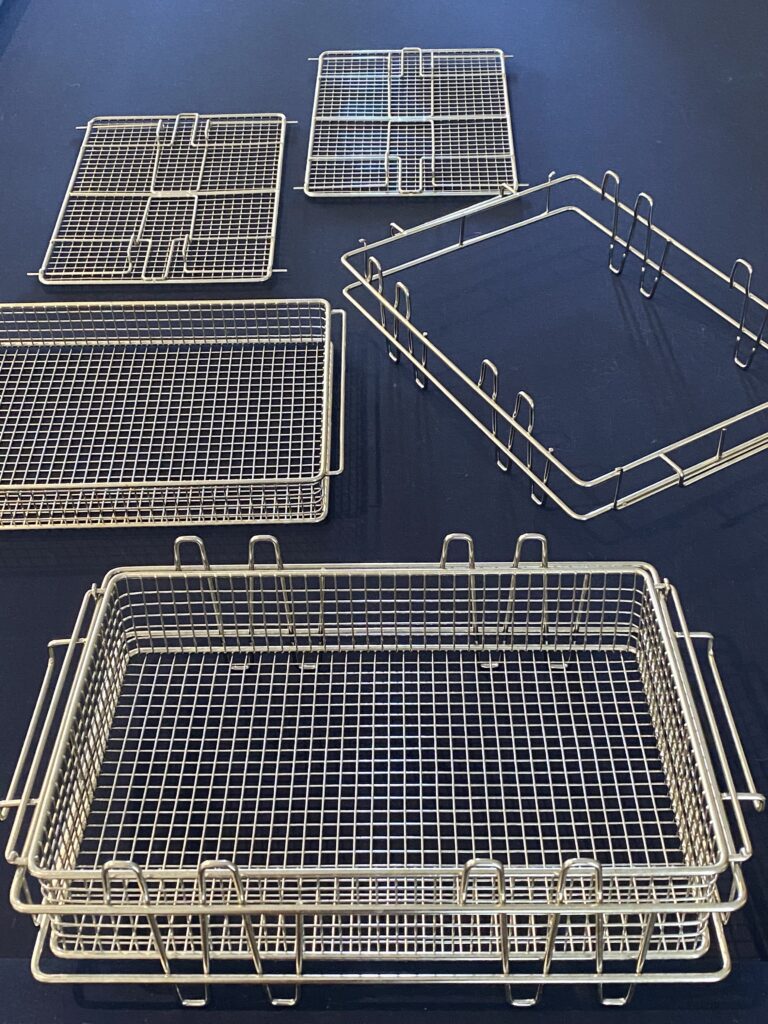 Basquettes is the best new cooking tool.
This 6-piece set can be used in so many different ways.
Basquettes is the most versatile cooking tool on the market.
Made of high-quality stainless steel, Basquettes will provide years of cooking fun.
Founded by a dynamic mother-daughter duo, Basquettes is an all-in-one cooking and grilling tool designed for the home chef to make easier, faster and heathier food.
The innovative, stackable basket set is comprised of two multi-functional and multi-positional nesting baskets that feature removable and adjustable tops, plus patent-pending intertwining legs, allowing them to be stacked and flipped in any direction and in one easy motion.
The baskets can be stacked on each other or used on separate oven racks.
The heightened position of the wire baskets enables grease to drip through and air to circulate, resulting in healthy eats and fast cooking times.
Perfect for air-frying, grilling, smoking, roasting, rotisserie, dehydrating, crisping and cooling, there's no longer a need for tons of single-use gadgets cluttering countertops and shelves.
On a mission to bring fun back into the kitchen, Basquettes allows people to unleash their culinary creativity for all occasions and everyday meals and snacks. 
Turns your oven into an air-fryer.
Turns your oven into a dehydrator.
Turns your oven into a rotisserie.
Healthier than sheet-pan cooking.
Better than a roasting pan.
Easily cook multiple levels of food.
Easier, faster, healthier foods.
Metal utensil safe.
PFOA and PTFE free.
oven air fryer basket • oven air fry tray • oven air fry pan • crisper tray for oven • oven crisper basket • multi-level roasting pan
rotisserie basket for grill + oven • veggie grill pan • seafood grill pan • easy smoker for grill • oven dehydrator fish grilling basket • grilling tool • grilling accessory • air fryer basket for oven • air fryer pan for convection oven • crisper tray for oven • multi-level roasting pan • rotisserie grill basket • veggie grill basket• seafood grill pan • easy smoker for grill • oven dehydrator • rotisserie basket for oven • french fry basket for oven • cooking tray • baking basket • air fry tray • air fry basket