EASIER, FASTER, HEALTHIER FOOD
Grill, Smoke, Rotisserie, Dehydrate & Crisp
Clever 6 piece set allows you to stack and flip food on your grill – best multi-purpose grilling tool ever! Great as a fish grilling basket; vegetable gilling basket; kebob grilling basket or seafood grilling basket. Tight weave ensures that small foods won't slip through the grates.  Adjustable tops hold any sized food in place while flipping.  Use both barbecue baskets together as a rotisserie grilling basket – more fun than a spit!   Turns your grill into a fast smoker for those times you want delicious foods fast.  High capacity baskets for any sized crowd.  Removable tops and legs. Dishwasher and metal-utensil safe. Best barbecue and grilling accessory!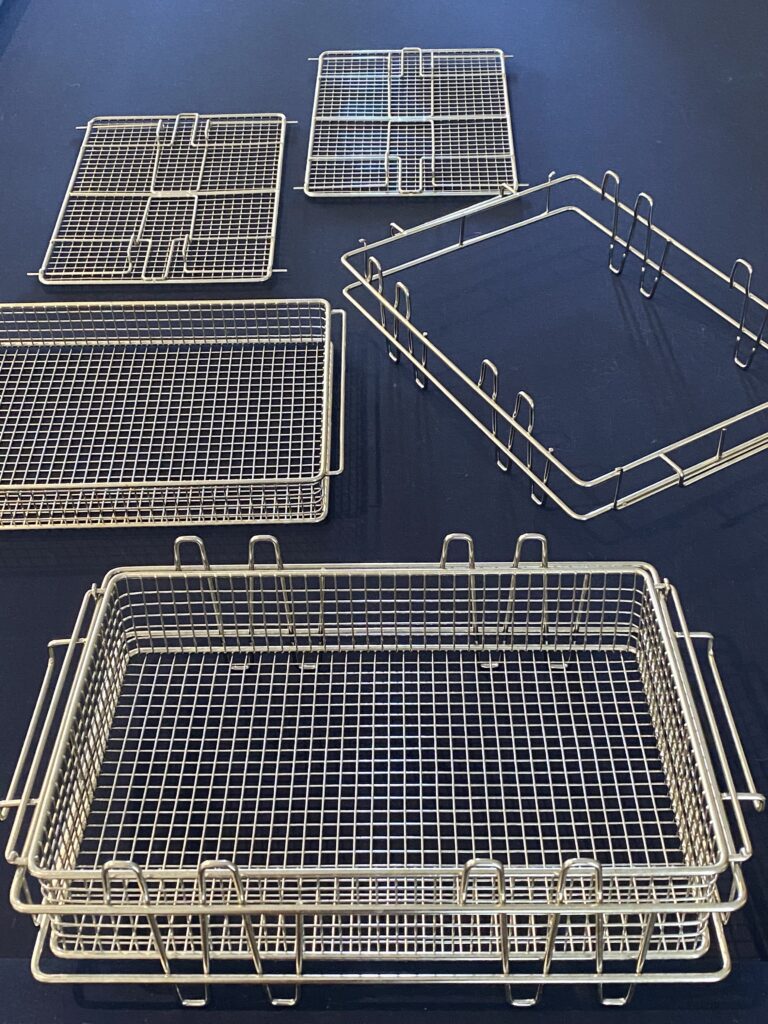 Basquettes is the best new multi-purpose grill tool.
This 6-piece set can be used in so many different ways.
Basquettes is the most versatile grilling tool on the market.
Made of high-quality stainless steel, Basquettes will provide years of grilling fun.
Use baskets with or without the legs and with or without the tops.
Remove the legs and use Basquettes as a grill basket to keep small and crumbly foods from slipping through the grates – the best seafood grill basket and veggie grill basket.
Use the legs to raise foods from the grates for barbecue techniques like smoking or dehydrating.
Use the adjustable top so you can flip foods over in one easy motion.
For smoking, put a flat foil packet filled with flavored hardwood (and pierced with a small hole on the top) directly under the Basquettes.  As the foil packet heats up, the delicious smoke of the hardwood will flavor your food. So much easier and faster than a traditional smoker.
For dehydrating, the process is similar to smoking but at a lower heat and for longer times.  You can make delicious beef jerky on your grill! 
Excellent for GAME DAY wings!  Invite your friends and show off your barbecue skills. Basquettes are big enough to serve the whole crowd.
Use the legs and tops for barbecuing amazingly tender brisket and other meats.  By keeping the meats raised and by flipping often, the meat will fall off the bone! 
Stack the two baskets together with the legs but without the tops to make a cage for rotisserie!  No other tools needed – simply put your poultry, leg of lamb or other meat into one of the baskets and then put the other turned upside down on top to make a "cage".
Easily turn the rotisserie baskets over with the ergonomic handles on a regularly timed basis to make perfect rotisserie meals – more fun than a spit!
Safe for metal utensils.
No coating, so no worry about chemicals like PFTE and PFOA. Safe and healthy eating for all your family and friends.
fish grilling basket • grilling tool • grilling accessory • barbecue tool • air fryer basket for oven • air fryer pan for convection oven • crisper tray for oven • multi-level roasting pan • rotisserie grill basket • veggie grill basket• seafood grill pan • easy smoker for grill • oven dehydrator • rotisserie basket for oven • french fry basket for oven • cooking tray • baking basket • air fry tray • air fry basket